Zoë Gilby Quartet
Sunday 12 July, 8pm
Live music returns to The Globe! … But you can only watch it on a screen, for now.
On Sunday 12 July award-winning vocalist Zoë Gilby will be performing with her exceptional quartet at The Globe. The gig will be streamed live and you can watch it again at any time.
This will be the first time a band has played at The Globe for almost four months, and the first time we have livestreamed a gig from the venue. The Globe will remain closed to the public so please do not try to attend the gig in person. We are planning to allow audiences in The Globe as soon as we can accommodate them safely and within government guidelines.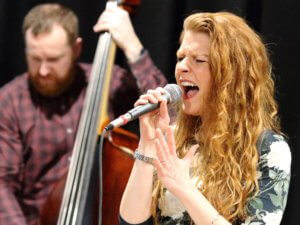 Zoë Gilby is a vocalist and songwriter, making a stunning impression on the music scene today. Her compelling original compositions are written with double bassist husband Andy Champion. A powerful collection of songs with a strong narrative. Supported by guitarist Mark Williams and drummer Russ Morgan they deliver a commanding mix of musical sophistication and dramatic edge. An engaging repertoire of story telling and atmosphere, her stockpile of music also includes an adventurous blend of contemporary composers from Kate Bush to Pink Floyd and the sensitive treatment of jazz standards, completes this particular 'story-book'. She has toured extensively the UK and internationally, and has performed at many prominent jazz festivals and venues. Last year she was voted Jazz Vocalist of the Year in the Parliamentary Jazz Awards.
So that the musicians can get paid, we ask you to pay a small 'entrance fee', which we recommend should be £5 per person. If you are able to pay a bit more this will be really welcome at this time when gig income for musicians has almost completely stopped.
TO VIEW THE LIVESTREAM GIG PLEASE DO THE FOLLOWING:
1. Make a donation via the following link.
https://bit.ly/2YWVZAV
Donate what you can afford, £5 per person is the suggested minimum. Please do so as early as possible, as a rush of requests just before the gig may result in some people missing the start.
2. When we have received notification of your donation we will send you an email with instructions on how to view the livestream. Please note that this is not an automated process. Our volunteers may not respond immediately. Also remember that our message will go to the email account associated with your payment which may not use be the one you usually use.
3. We recommend that you access and save the link as soon as you receive our instructions. On Sunday 12 July 'doors open' at 7.45pm to give you time to check your set up, get comfortable and chat with other members of the audience.