Women Play Jazz! workshops
Jazz workshops specifically for women led by inspirational tutor Jilly Jarman.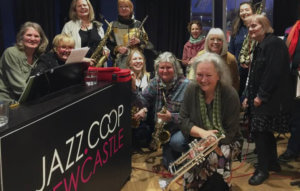 The workshops create a supportive atmosphere for instrumentalists and vocalists alike. They concentrate on developing ways to improvise, playing with others, and having fun with jazz repertoire and beyond. Playing is usually done by ear though help from sheet music will be available too. Learning will include: communicating with other musicians, demystifying jargon and preparing for a jam session.
Jilly Jarman is a jazz composer, singer and multi-instrumentalist. She is founder/director of BlueJam Arts and is currently developing Cumbria Music Hub's Youth Jazz Programme and Girls in Jazz project.
When?
Workshops will be held on Saturday afternoons, 2pm – 5pm, on the following dates. Each one will be different and complete. You are welcome to come to one, some or all of them.
Saturday 12 January
Saturday 9 February
Saturday 30 March
Saturday 13 April
Saturday 25 May
Where?
The Globe, 11 Railway Street, Newcastle upon Tyne NE4 7AD
Who?
Suitable for female instrumentalists and vocalists, aged 16 to infinity.
How much?
The standard fee is £28 per workshop, and there is a discounted rate of £25 for Jazz.Coop members. You get a 10% discount if you book for all four workshops.
To enrol
Please complete the form below. You need to pay for the workshops in advance.
To pay
You can pay in one of the following ways:
1 By bank transfer (online banking) directly into our bank account: Account name: Pink Lane Jazz Co-op Ltd, Account number: 65650408, Sort code: 08 92 99
2 By making an online payment by credit/debit card or PayPal: use the button at the bottom of this web page
3 By sending a cheque, payable to: Pink Lane Jazz Co-op Ltd, and post it to The Treasurer, 209 Centralofts, Waterloo Street, Newcastle upon Tyne NE1 4AL
Any Questions?
Please email learning@jazz.coop
ENROLMENT FORM
Error: Contact form not found.
PAYING BY CARD/PAYPAL
If you are paying by card/PayPal please click SEND above before you click BUY NOW.