Tony Irving & Massimo Magee & guests
Monday 28 January 2019, 7.30pm
No-genre, free improvised, fire music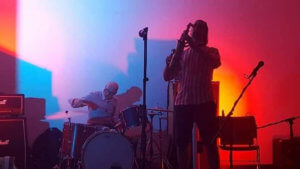 Coming together for a UK tour in support of their recent release, The Fog on Astral Spirits. Drummer Tony Irving on a visit from Australia teams up with sax player Massimo Magee for an evening of uncompromising improvised fire music.
Massimo Magee is a writer, artist and musician based in London. His work is wide-ranging, including experimental fiction, text art, sound and image digital art pieces, experimental music (improvised, composed and everything in between), free jazz, radically extended saxophony, electronics, data manipulation and much more. Ensembles include Cyclone Trio (with Tony Irving and Tim Green), Interrogation Quartet (with Ulrike Lentz, Joshua Weitzel and Chie Nagai), Rick Jensen's Apocalypse Jazz Unit, and many ad hoc groups. He has released albums on Astral Spirits, Kendra Steiner Editions, Copy for Your Records, Lurker Bias and other labels. His audiovisual Manifesto (New Unities) was published in 2017.
Tony Irving is a non-linear/Free improvising drummer who formed Ascension in London in 1992 and later teamed up with Stefan Jaworzyn for the classic Ascension line-up. Ascension released 2 CD's, 2 LP's and numerous singles. While in Ascension Tony was also a member of Descension (with Stefan Jaworzyn, Simon Fell and Charles Wharf) and Unity Gain (with Neil Mackay and Nigel Webb). Tony has also recorded and played with London improvising legends Paul Dunmall, Alan Wilkinson, the late Lol Coxhill, Pat Thomas and Sonic Youth guitarists Thurston Moore and Lee Ranaldo. Since moving to Australia in 2005 Tony has played solo and in duo performances with Yusuke Akai (guitar) and Neil Mackay (bass/electronics) and most recently recorded and performed with Adam Cadell (violin), Marisa Allen (violin), Massimo Magee (saxes) and in groups The Impossible (with Mitch Green and Sam O'Brien) and Cyclone Trio (with Massimo Magee and Tim Green).
Admission £6 on the door (£3 students)
Can't come but you'd like to support us? Click here.