Tango Jazz Quartet plays for Jazz.Coop and The Globe
Sunday 28 June, 8pm ('doors open' 7.45pm)
online performance on YouTube
We can't run gigs at The Globe currently but this WON'T STOP US bringing you the very best new music! We are pleased to announce the sixth of our exclusive livestream concerts. It's a special one – the first with a full band.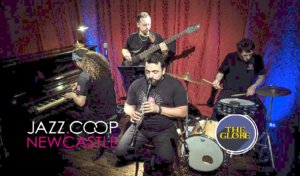 On Sunday 28 June at 8pm we're delighted to be able to bring you an exclusive concert by the world-famous Tango Jazz Quartet, which we will stream live to you all the way from Argentina through YouTube. You can watch the gig again at any time.
Tango Jazz Quartet have played all over the world, including twice at The Globe. They were due to play there again this July but the tour has been cancelled. Instead we have arranged this special livestream.
So that the musicians can get paid, we ask you to pay a small 'entrance fee', which we recommend should be £5 per person. If you are able to pay a bit more this will be really welcome at this time when gig income for musicians has completely stopped and is unlikely to return in the very near future.
TO ATTEND THE GIG PLEASE DO THE FOLLOWING:
1. Make a donation via the following link.
https://bit.ly/3h2jxg2
Donate what you can afford, £5 per person is the suggested minimum. Please do so as early as possible, as a rush of requests just before the gig may result in some people missing the start.
2. When we have received notification of your donation we will send you an email with instructions on how to view the livestream on YouTube. Please note that this is not an automated process. Our volunteers may not respond immediately. Also remember that our message will go to the email account associated with your payment which may not use be the one you usually use.
3. We recommend that you access and save the YouTube link as soon as you receive our instructions. On Sunday 28 June 'doors open' at 7.45pm to give you time to check your set up, get comfortable and chat with other members of the audience.
ABOUT TANGO JAZZ QUARTET
Tango Jazz Quartet from Argentina, mixes the melodic and rhythmic patterns of Tango with the harmonies and improvisation of Jazz. This new approach to Tango and Jazz has received an enthusiastic reaction both in Argentina as well as internationally. The music of Tango Jazz Quartet goes from the traditional tango to the music of Astor Piazzola without ever abandoning the territory of jazz.
With 23 international tours performed and more than 30 countries visited, Tango Jazz Quartet performed in the most prestigious venues around the world such as San José Summer Jazz Festival, San José California, Shanghai Jazz Festival, Nisville International Jazz, Festival, Serbia; Tango & Jazz Festival, Tomsk, Russia, Hong Kong Jazz Festival, Joy of Jazz Festival, Johannesburg; Sunset-Sunside, Paris; Porgy & Bess, Vienna, The Music Village, Brussels; Snug Harbor, New Orleans, BFlat, Berlin, among many more.
Saxophonist and clarinetist Gustavo Firmenich, leader of TJQ recreated with this band the dancing evenings that were common in the golden era of the tango in Buenos Aires, where Tango and Jazz lived together although playing separately. Tango Jazz Quartet proposed a fusion of how much both songs had in common and adding something distinctive of the jazz that the tango lacked: Improvisation.
TJQ MEMBERS:
Martín Rao de Vita ,on bass
Horacio Acosta ,on piano
Mauricio Pasculli ,on drums
Gustavo Firmenich ,on tenor sax & clarinet
VIDEOS:
https://youtu.be/awiVs1fjNQw
https://youtu.be/fvQf2o_orQc
https://youtu.be/STJtDQN00eg
PRESS QUOTES:
"I was quite amazed at just how great groove this was! The band could be swinging, rocking, funking, jazzing or whatever, that tango rhythm was embedded in it all. That was the charm of this unique band. Rarely the tempo remain constant with mood swings plenty! This "senors" are tension building maestros." Lance Liddle, Bebop Spoken Here
"Tango Jazz Quartet, from Argentina. A foursome that demonstrates how tango and its variants support a music culture more than they offer just an excuse to take the floor with risqué intent, the TJQ tour the world like missionaries." Nigel Jarret, Wales Arts Review