There's no harm in asking …
This is a unashamed appeal for money. We wondered whether we should but as our board member and recently trained bar volunteer Nick Ball said: "There's no harm in asking".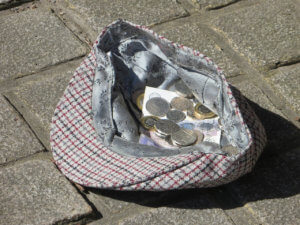 "Hi all you supporters of Jazz.Coop and The Globe. We hope you are looking forward to the summer holidays. We will be running a full programme of events throughout the summer. At this time of year fewer people tend to come to venues such as The Globe but our costs remain about the same.
"If you can't often come to gigs you could still support us by making a small monthly donation of say £10 or £20. If a even a few of our many supporters did this it would make a big difference to our cash flow at those times of year when The Globe is not so busy.
"Please help if you can, and keep enjoying the sunshine," says Nick on behalf of Jazz.Coop and The Globe.
To make regular (or one-off) donations to us you can either do it by
Bank transfer (online banking) directly into our bank account:
Account name: Pink Lane Jazz Co-op Ltd, Account number: 65650408, Sort code: 08 92 99 (Please use the reference 'donation')
or by card via PayPal below