The Riviera Quartet
Sunday 20 September, 8pm
Live music from The Globe! … But you can only watch it on a screen, for now.
On Sunday 20 September The Riviera Quartet will be playing cool jazz at The Globe. The gig will be streamed live and you can watch it again at any time. The Globe will remain closed to the public so please do not try to attend the gig in person. We are planning to allow audiences in The Globe as soon as we can accommodate them safely and within government guidelines.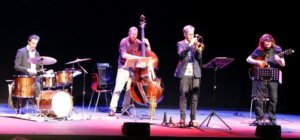 Best known for their innovative take on the classic Bossa Nova sound, the Riviera Quartet return to the Globe with new material recorded just before Lockdown. Their release, 'Tell Me When It's Safe to Open My Eyes,' has enjoyed airplay on the BBC and they have been featured Artists on Adrian Riley's Jazz Thing podcast as well as Jazz on the Tyne with Colin Muirhead.
American trumpet/flugelhorn player/vocalist Pete Tanton is joined by Mark Williams, guitar; Andy Champion, bass; Russ Morgan, drums. Described by Jazz Northeast as, 'music which sounds unfailingly fresh', and Bebop Spoken Here as, 'Cool or What?' the Riviera Quartet promise a cocktail of original compositions to take you on a musical journey down a coastal highway, in the sunshine, with the top down. Expect a little bit of Bossa Nova, a little bit of blues, and some Chet Baker-esque vocals.
So that the musicians can get paid, we ask you to make a small 'entrance donation', which we recommend should be £5 per person. If you are able to give a bit more this will be really welcome at this time when gig income for musicians has almost completely stopped.
TO VIEW THE LIVESTREAM GIG PLEASE DO THE FOLLOWING:
1. Make a donation via the following link
https://bit.ly/322b9GP
Donate what you can afford, £5 per person is the suggested minimum. Please do so as early as possible, as a rush of requests just before the gig may result in some people missing the start.
2. When we have received notification of your donation we will send you an email with instructions on how to view the livestream. Please note that this is not an automated process. Our volunteers may not respond immediately. Also remember that our message will go to the email account associated with your payment which may not use be the one you usually use.
3. We recommend that you access and save the link as soon as you receive our instructions. On Sunday 20 September 'doors open' at 7.45pm to give you time to check your set up, get comfortable and chat with other members of the audience.