Fergus McCreadie Trio
Sunday 6 December, 8pm
Live music from The Globe! … But you can only watch it on a screen, for now.
Tickets for livestream available from The Globe website.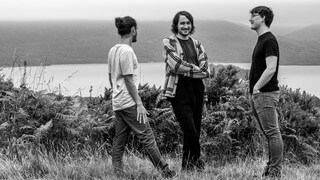 Recently signed to leading European label Edition Records, the multi-award-winning pianist Fergus McCreadie is among the leaders of the exciting young wave currently energising the vibrant and creative Scottish jazz scene. A phenomenal technician, McCreadie has developed a deeply personal style that captures Scotland's musical traditions and landscapes while honouring his American and Nordic influences.
His trio with David Bowden (double bass) and Stephen Henderson (drums) has already made an impression in the UK and Europe. They won the coveted Peter Whittingham Jazz Prize in 2016, and their debut album, Turas, won Album of the Year at the Parliamentary Jazz Awards 2019 and Best Album at the Scottish Jazz Awards 2019, as well as reaching the shortlist for the Scottish Album of the Year Award 2019, a rare feat for a jazz group.
Their concerts, highlighting their thrilling virtuosity and brilliantly attuned collective dynamism and their music's huge emotional charge, have earned five-star reviews and invitations to appear at London jazz mecca Ronnie Scotts' International Piano Trio Festival as well as at Oslo and Stockholm jazz festivals. Before the COVID-19 pandemic, the trio was chosen to represent Made in the UK at Rochester Jazz Festival in New York and was due to appear at the Love Supreme festival in Sussex, Europe's largest outdoor jazz event, which has now been rescheduled to take place in 2021. The trio's first album for Edition Records, Cairn, is set for release in early 2021.
Tickets for livestream available from The Globe website.