Tango & Jazz Quartet
Sunday 27 August, milonga 3-6pm, gig 8-11pm
Argentinian pioneers of tango/jazz fusion on world tour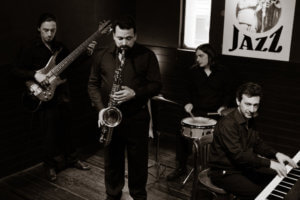 After a very popular event last year, Jazz.Coop is delighted to welcome the Tango & Jazz Quartet back to The Globe for a special day of Argentinian music and dancing.
For dancers, there will be an afternoon milonga at 3-6pm including a live set from the band. Non-dancers will be very welcome to sit back and soak up the atmosphere. This will be followed by an evening gig at 8pm. There is a discount for joint tickets.
The Tango & Jazz Quartet, started in Argentina in 2006, & mix the melodic and rhythmic patterns of Tango with the harmonies and improvisation of Jazz. This new approach to Tango and Jazz has received an enthusiastic reception both in Argentina as well as internationally. Over the last few years, the band has become established internationally, playing in South America, Africa & Europe. The band line up is:
Alejandro Beelmann on drums,
Federico Hilal on bass.
Horacio Acosta on piano,
Gustavo Firmenich on tenor saxophone and clarinet
http://tangojazzquartet.com/
https://www.facebook.com/TangoJazzQuartet/
@TangoJazzQ
Tickets:
Milonga £8
Evening gig £13
Milonga + gig £17
Tickets are available online. Some tickets will be available on the door.