Sotavento Big Band
Sunday 28 July, doors open 7.30pm
Swing and tango big band from Argentina on world tour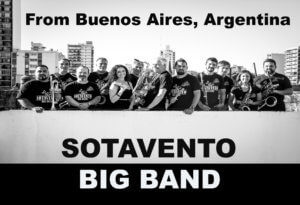 This is special – Buenos Aires comes to Newcastle upon Tyne.
Sotavento Big Band is a Jazz-Tango band formed in Buenos Aires 15 years ago, that recreates the golden age of swing and Argentine tango, (Astor Piazzolla foremost), with tango arrangements written especially for the band.
The orchestra has shared the stage with numerous groups of high professional level of Argentina and Europe and has become one of the most active Big Bands in Buenos Aires. It comes to the Newcastle this year as part of its third European tour.
This Big Band has the distinction of having replaced the trombones and trumpets by saxophones, giving a very warm sound.
Gustavo FIRMENICH (on baritone saxophone),
Andrés VELTRI (on tenor saxophone)
Miguel BENSADON (on tenor saxophone)
Sergio CISNEROS (on clarinet & tenor saxophone)
Florencia CRNKO (on clarinet & alto saxophone)
Horacio BALDASSARRE (on tenor saxophone)
Emanuel VARGAS (on trumpet)
Duilio GIRI (on tenor saxophone)
Fernando CRESPO (on drums)
Ezequiel ANGELERI (on guitar)
Cristian COR (on bass)
Enrique GALLO CALDERON (on piano)
Patricia LEGUIZAMON (vocals)
Tickets £12 on the door. There are a limited number of advance saver tickets available online for £10 + booking fee.
Can't come but you'd like to support us? Click here.