Sam Leak plays for Jazz.Coop and The Globe
Sunday 19 April, 8pm ('doors open' 7pm)
online performance accessed via Jazz.Coop Facebook page
We can't run gigs at The Globe currently but this WON'T STOP US bringing you the very best new music!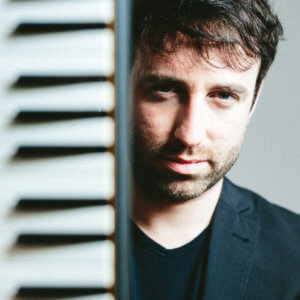 This Sunday 19 April at 8pm we're delighted to be able to bring you an exclusive and intimate solo piano concert by one of the country's finest pianists, Sam Leak, which we will stream live to you through Facebook. (If you don't use Facebook click here.)
Inspired by the likes of Keith Jarrett and Paul Bley, Sam has recorded a wonderful duo album with NYC pianist Dan Tepfer, as well as leading his acclaimed band Aquarium for several years. His music is richly inventive, melodic, lyrical, nuanced, and thoughtful. Really beautiful.
Sam will play for about 45 mins to 1 hour, and will be happy to take some questions about the music at the end, so both some wonderful music and some insights for you!
You can hear some of Sam's music here, recorded live at The Vortex: https://youtu.be/VUmFWT3Gqx0
.. and also read about Sam here: https://www.samleak.com
"the music is magical throughout the date… constantly evolving and engaging… Sam Leak will be one to watch and hopefully US jazz fans will have regular access to hearing him in concert and on CD." The New York City Jazz Record
"Sam Leak is one of the finest young pianists on the UK jazz scene, deserving of far wider recognition, not only for his unique improvisational skills, but also for his compositions, which have great breadth and originality, while always being wonderfully accessible and positive." Helen Mayhew
So that Sam can get paid, we'd like to ask you to pay a small 'entrance fee', which we recommend should be £5. If you are able to pay a bit more this will be really welcome at this time when gig income for musicians has completely stopped and is unlikely to return in the very near future.
The gig will stream on a private Facebook page, which you will need a Facebook login ID. to attend.
TO ATTEND THE GIG PLEASE DO THE FOLLOWING:
1. Send a Direct Message to us at the Jazz.Coop Facebook page: https://www.facebook.com/jazz.coop.uk/
2. We'll reply to you with a link to Sam's PayPal account – please pay what you are able, recommended minimum amount £5.
3. When you have paid, please reply with a further direct message and we'll add you to the list of people who can access the Facebook event page, and send you a link to that.
There will be also be a free virtual raffle ticket for everyone who attends; prizes will be free tickets to future gigs, valid either for virtual or real-life when we return to The Globe
If you're not sure about Facebook streamed gigs, it's a great way of feeling like you're enjoying music in a room with other people; you can react to the music and see other people's reactions in real time, and interact with others also. Here's a Jazzwise write-up a live-streamed concert that Sam recently gave: https://www.facebook.com/737767149/posts/10158558106157150/?d=n
Please do give it a try with us this week!
Thank you, stay safe and well, and hopefully see you on Sunday!
* If you do not have a Facebook account
Apologies to those of you who would like to view this exclusive performance but don't use Facebook. At the moment Facebook is the preferred platform for the musicians we are working with, but this could change.
You may like to create a Facebook account so you can view this performance by Sam Leak and others like it. You would not need to use Facebook for anything else or give any personal information (you can create a false name and birthday if you want). Sam Leak shows you how to set up a Facebook account in less than one minute in this short video https://youtu.be/iCrKcnKMNaA