Play Jazz! workshop – The Blues and Beyond
Saturday 5 May 2018, 2-6pm at Sage Gateshead
On the first Saturday of each month (except January and August) we run four-hour workshops in association with Sage Gateshead. Each one is different, and is usually facilitated by a different tutor.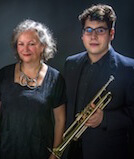 The theme this time is The Blues and Beyond: An exploration of modal, be-bop and fusion takes on the classic 12-bar. The tutors are Geoff Bartholomew and Jilly Jarman. This session is suitable for instrumentalists and vocalists of any level of experience.
Geoff Bartholomew is a jazz trumpeter, composer and arranger, who performs with swing and fusion bands across the UK, and teaches jazz in Cumbria.
Jilly Jarman is a jazz improvisor and composer, pianist and vocalist, who runs Improv Choirs in the North and Scotland, leads the Women Play Jazz! sessions at the Globe, and is founder/director of BlueJam Arts.
Geoff and Jilly lead the jazz development programme for young people in Cumbria.
The Play Jazz! workshops are intended to appeal to a wide range of musicians including those who
play other styles of music but are new to jazz
play written music but want to learn to improvise
have not played for a while and want to refresh their skills
want to meet and play with other jazz musicians.
Suitable for all instruments and improvising vocalists. Minimum age 16.
Each four-hour workshop costs £20 (or £18 for Jazz.Coop members). Ticket sales are handled by the Sage and there's a booking fee for online and telephone sales (but not if you pay cash at the ticket office).
You can book online here
http://sagegateshead.com/event/play-jazz-17-18/
or by phoning the Sage ticket office 0191 443 4661
or by visiting the Sage in person
If you've got any questions please email learning@jazz.coop