Play Jazz! workshop: with guest tutor Sam Leak
Saturday 7 March 2020, 2-6pm at Sage Gateshead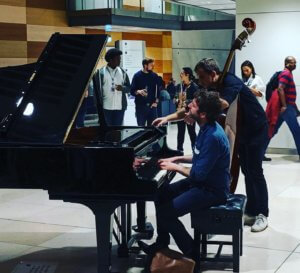 London-based jazz pianist, composer and educator Sam Leak is visiting Newcastle/Gateshead on tour with his trio. We are delighted that he will be the guest tutor at our monthly Play Jazz! workshop.
Sam says: "Jazz education all too often restricted to the 'easily objectifiable.' Scales, chords, and theory dominate the content of educational books and classes, and yet none of these things mean anything if you don't internalise them as sounds."
In today's session Sam Leak will workshop playing and understanding music by ear, drawing on his years of experience of teaching musicianship at Middlesex University. As an educator Sam has taught at the Guildhall School of Music and Drama, Trinity Laban, and the University of Cambridge. He is a fellow of the Higher Education Academy (FHEA), and is an Associate of the Royal Academy of Music (ARAM).
About Play Jazz! On the first Saturday of each month (except January and August) we run four-hour workshops in association with Sage Gateshead. Each one is different, and is usually facilitated by a different tutor. The Play Jazz! workshops are intended to appeal to a wide range of musicians including those who
play other styles of music but are new to jazz
play written music but want to learn to improvise
have not played for a while and want to refresh their skills
want to meet and play with other jazz musicians.
Suitable for all instrumentalists and improvising vocalists. Minimum age 16.
Each four-hour workshop costs £25 (or £22.50 for Jazz.Coop members). Ticket sales are handled by the Sage. You can book online here
https://sagegateshead.com/whats-on/jazz-co-op-presents-play-jazz-workshop/#book
or by phoning the Sage ticket office 0191 443 4661
or by visiting the Sage in person
If you've got any questions please email learning@jazz.coop
The Sam Leak Trio will be playing at The Globe in Newcastle in the evening (doors open 7.30pm). Click here for more info
https://jazz.coop/whats-on/#/event/sam-leak-trio