Play Jazz! workshop: Riffs & Melodies
Saturday 3 November 2018, 2-6pm at Sage Gateshead
On the first Saturday of each month (except January and August) we run four-hour workshops in association with Sage Gateshead. Each one is different, and is usually facilitated by a different tutor.
This time the tutor is improviser, performer, composer and teacher Faye MacCalman. The theme is 'Composing your own riffs and melodies through improvisation and learning from female figures in jazz.'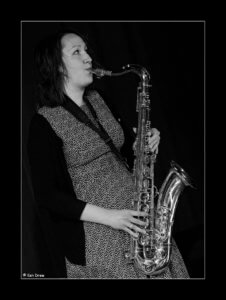 Faye says: 'This workshop will explore melodies written by Carla Bley, Vi Redd and Mary Lou Williams, and how to create our own riffs and melodies through improvisation. In this session we will work on learning at least one tune by these musicians, taking inspiration from them for our individual ideas and riffs that we could use for our own compositions. We will experiment with stitching simple riffs and melodies together, and exploring the ways we can develop our own sound and ideas. '
The Play Jazz! workshops are intended to appeal to a wide range of musicians including those who
play other styles of music but are new to jazz
play written music but want to learn to improvise
have not played for a while and want to refresh their skills
want to meet and play with other jazz musicians.
Suitable for all instrumentalists and improvising vocalists. Minimum age 16.
Each four-hour workshop costs £25 (or £22.50 for Jazz.Coop members). Ticket sales are handled by the Sage. You can book online here
http://sagegateshead.com/event/play-jazz50844/
or by phoning the Sage ticket office 0191 443 4661
or by visiting the Sage in person
If you've got any questions please email learning@jazz.coop