Play Jazz! workshop: Samba & Bossa Nova
Saturday 2 March 2019, 2-6pm at Sage Gateshead
Discovering the Sounds of Brazilian Jazz
Tutors: Adam Osmianski and Joy Ellis
(Adam and Joy will be performing later at the Globe in the Joy Ellis Quartet)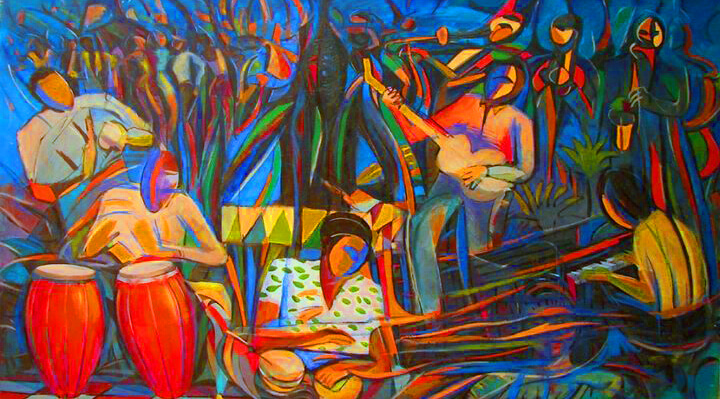 This workshop will focus on the rhythms and melodies of Bossa Nova and Samba Jazz, as well as folkloric dance styles from the northeast of Brazil. In addition to playing their first instrument all participants will have the opportunity to learn Brazilian rhythms on native percussion instruments if they so choose.
Adam Osmianski is an American drummer and percussionist currently residing in London. As a performer he has worked in concert halls, clubs and festivals in Brazil, China, Malaysia, Singapore, Taiwan, throughout Europe, and in the USA as both a leader and sideman in many diverse projects. As an clinician, Adam has presented workshops at the Universidade Federal de Pernambuco in Recife, Brazil, the Tianjin Conservatory of Music in Tianjin, China, Universiti Malaya, in Kuala Lumpur, Malaysia and Duquesne University in Pittsburgh, PA, amongst many others. He currently teaches at West Virginia University, USA and Junior Guildhall School of Music and Drama, London.
Adam also enjoys writing and is a contributing columnist for Modern Drummer Magazine and the author of thatdrumblog.blogspot.com. He is looking forward to releasing an album of Brazilian music with his project Samba Azul at Pizza Express, Soho on April 7th this year.
Joy Ellis is a pianist, singer and composer based in London. Since graduating from the Guildhall School of Music & Drama she has toured all over the world playing jazz. Past gig highlights include Ronnie Scott's, the Jazz Café and the Barbican Pit Theatre in London, the London Jazz Festival, the Cork Jazz Festival and No Black Tie Jazz Club in Kuala Lumpur. She was recently selected as one of fourteen emerging artists to work with Mercury-nominated singer ESKA on a composition residency in Manchester.
In November 2017, Joy released her debut album entitled 'Life On Land' on F-IRE records. The album reflects her passion for jazz and improvisation, her love of groove and dance music, her classical roots as a pianist and the soulful, poetic aspects of being a singer-songwriter.
'Startling debut from British singer-songwriter who sets her cool, poetic meditations…to a suitably restless, sophisticated jazz soundscape. Highly original work that creates a world of it's own.' Chris Ingham, MOJO ★★★★
'Fiery improvisations from Ellis who provides well-structured hard-bop solos on piano and Fender Rhodes.' John Lewis, The Guardian ★★★★
Play Jazz! workshops
On the first Saturday of each month (except January and August) we run four-hour workshops in association with Sage Gateshead. Each one is different, and is usually facilitated by a different tutor. The Play Jazz! workshops are intended to appeal to a wide range of musicians including those who
play other styles of music but are new to jazz
play written music but want to learn to improvise
have not played for a while and want to refresh their skills
want to meet and play with other jazz musicians.
Suitable for all instrumentalists and improvising vocalists. Minimum age 16.
Each four-hour workshop costs £25 (or £22.50 for Jazz.Coop members). Ticket sales are handled by the Sage. You can book online here
http://sagegateshead.com/event/play-jazz50844/
or by phoning the Sage ticket office 0191 443 4661
or by visiting the Sage in person
If you've got any questions please email learning@jazz.coop