Play Jazz! workshop – Engagement and Stagecraft
Saturday 3 February 2018, 2-6pm at Sage Gateshead
On the first Saturday of each month (except January and August) we run four-hour workshops in association with Sage Gateshead. Each one is different, and is usually facilitated by a different tutor.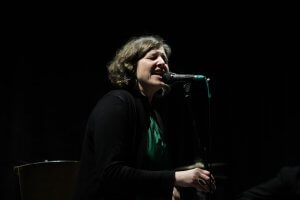 The theme of this first workshop of 2018 is Engagement and Stagecraft, facilitated by Gabriele Heller, an actor, musician and performance artist. The workshop will explore techniques that help musicians connect with each other and engage with the audience. Using listening, teamwork and improvisation participants will practice spontaneously sharing musical ideas and exploring new ways of playing together as an ensemble.
She says: "If you enjoy playing music but sometimes feel unease when performing in front of an audience this workshop will provide you with tips and tricks to help you relax on stage and engage with the audience."
The Play Jazz! workshops are intended to appeal to a wide range of musicians including those who
play other styles of music but are new to jazz
play written music but want to learn to improvise
have not played for a while and want to refresh their skills
want to meet and play with other jazz musicians.
Suitable for all instruments and improvising vocalists. Minimum age 16.
Each four-hour workshop costs £20 (or £18 for Jazz.Coop members). Ticket sales are handled by the Sage and there's a booking fee for online and telephone sales (but not if you pay cash at the ticket office).
You can book online here
http://sagegateshead.com/event/play-jazz-17-18/
or by phoning the Sage ticket office 0191 443 4661
or by visiting the Sage in person
If you've got any questions please email learning@jazz.coop