'Telling Tales' – jazz festival special workshop with Issie Barratt
Saturday 7 April 2018, 2-6pm at Sage Gateshead
The April Play Jazz! workshop is special because it is part of the Gateshead International Jazz Festival.  It will be facilitated by guest tutor Issie Barratt, whose groundbreaking Interchange Dectet – featuring new compositions by female jazz musicians – will be playing at the festival.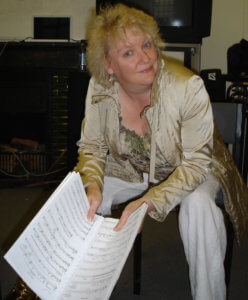 Issie is an internationally active composer, arranger, conductor, baritone player, record producer and educator who has performed at many worldwide leading concert halls, jazz clubs and festivals. She was founding head of Jazz at TrinityLaban and is the founding Artistic Director of National Youth Jazz Collective and Fuzzy Moon Records.
In the Play Jazz! workshop she will be 'Telling Tales' (literally and musically) about creative women in jazz, past and present, including Annie Whitehead, Barbara Dennelein, Billie Holiday, Carla Bley, Emily Remier and Tori Freestone.
The Play Jazz! workshops are intended to appeal to a wide range of musicians including those who
play other styles of music but are new to jazz
play written music but want to learn to improvise
have not played for a while and want to refresh their skills
want to meet and play with other jazz musicians.
Suitable for all instruments and improvising vocalists. Minimum age 16.
Each four-hour workshop costs £20 (or £18 for Jazz.Coop members). Ticket sales are handled by the Sage and there's a booking fee for online and telephone sales (but not if you pay cash at the ticket office).
You can book online here
http://sagegateshead.com/event/play-jazz-17-18/
or by phoning the Sage ticket office 0191 443 4661
or by visiting the Sage in person
If you've got any questions please email learning@jazz.coop