Pericopes + 1
Review by Lance Liddle from Bebop Spoken Here, 6 May 2018
Photo by Ken Drew
Emiliano Vernizzi (tenor); Alessandro Sgobbia (keys); Nick Wight (drums).
Spring Bank Holiday in Newcastle. The temperature warm for the time of year and the streets awash (literally – but not with rain) as the revellers celebrate their 9 to 5 freedom or, foregoing their studies, let it all hang out. They weren't coming from Evensong at St. Nicholas' Cathedral nor were they heading for The Globe, where they could not only have further slaked their thirst from the choice of beer, wines and spirits on offer, but also be witness to some of the most exciting music they're likely to hear this year.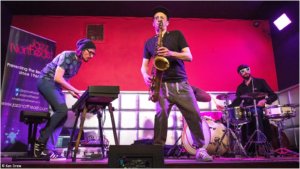 Fortunately, a goodly crowd of more mature souls did make the short trip from the fleshpots and were well rewarded for their efforts.
Perhaps they'd witnessed Pericopes + 1's performance on The Concourse at GIJF a couple of years back – a session that Wes of JNE who, with the Jazz Co-op, co-promoted this event, waxed eloquent about.
I missed that event myself but, having reviewed Pericopes + 1's latest CD – Legacy – I knew it wouldn't be one for the faint-hearted. And yet…
…and yet, there were moments of sheer beauty amidst the Jericho-like fusillade that must have caused the tango dancers in the upper room to mistime their Argentine Cross.
The oft-quoted Sound of Surprise has, surely, never been more appropriate than with this band. They can be playing sedately as if at an afternoon tea dance (or should that be cappuccino?) one moment then suddenly, all hell breaks loose and they go for the jugular. Keyboard player leaps from the stool pounding the unsuspecting instrument unmercifully, tenor player points his instrument skyward (tango dancers flee for cover) and we discover that the French got it right when they refer to drums as la batterie! Then, in the blink of an eyelid, its fff to ppp and we're back to the tea dance.
Tenor sax man Vernizzi has an amazing command of the horn. When blowing harmonics he hits notes that probably only dogs can here – and there was one friendly little canine present – and when he comes down to earth you notice he has a 'tone'. Some players, no matter how technically skilled they are don't have that quality. The air goes down the body of the instrument without hitting the sides resulting in a vaporous sound. No lack of substance with Signor Vernizzi.
Sgobbio, the most gymnastic of players, slotted in well providing a solid harmonic base as well as, by use of some kind of electronic sorcery, producing sci-fi sounds that didn't jar as much as these effects usually do.
New Yorker Nick Wight on drums provided the calm and the storm and not always in that order! Wight was seated, unlike the other two who bobbed and weaved like puppets on a string. This was a performance that was, at times, as dramatic as it was musical. The adrenalin flowed both off stage and on and, if the rest of the audience is anything like me, they're still unwinding.
Setlist: Kuwa; Grossetto; Red Sand Town; November Tears; Zardis (Le Premier); Martyrled; Legacy. The majority are from Legacy, the album of which I'm told was first reviewed in the UK on BSH!
PS: The fact that all three are based in different cities in different countries (Rome, Paris and New York) makes the band's cohesion all the more incredible!