David Lyttle Trio
Review and photo by Lance Liddle from Bebop Spoken Here, 13 October 2018
Steve Hamilton (piano); Michael Janisch (bass); David Lyttle (drums).
This 3-way promotion [Jazz.Coop, Jazz North East, Tyneside Irish Festival] was an undoubted success in terms of both audience numbers and artistic endeavour.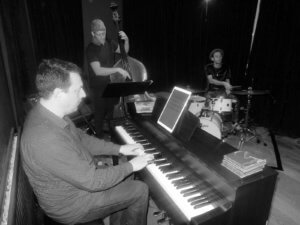 The crowded room applauded vociferously at the end of each original number (although less so after solos which isn't necessarily a bad thing) and deservedly so.
Janisch, we've heard in many settings over the years. The American bassist and London resident has long been a major player on the UK scene both live and on discs issued by his own Whirlwind label.
Hamilton I knew of but had yet to hear – I wasn't disappointed. His angular solos, drawing on both contemporary and traditional piano sources, kept my attention throughout.
Leader Lyttle was a demon, a man possessed, a loose-limbed leprechaun hitting every part of the kit with sticks, brushes and bare hands. If there had been an old-style radiator in the room (thank God there wasn't it was hot enough!) I swear he'd have played a vibes solo on it. When the next round of voting comes all the other drummers will be vying for second place. Composers too. All but the final numbers – Alone Together and the encore, Someday My Prince Will Come, – were originals by Lyttle and they were originals, not just re-workings of I Got Rhythm but sound compositions that stood up well.
Great titles too: Perpetual Scenario; After the Flood (impressive hand-drumming); Lullaby of the Lost (piano feature); My Name is Charles (inspired by a visit to China); Summer Never Lasts (some amazing bass playing, breathtaking interplay and moments of sheer mayhem). There was another piece, a ballad, something about the ageing process (I didn't catch the title) but it was rather beautiful. Indeed, the whole evening was rather special and I doubt if anyone didn't leave on a high.