Pericopes + 1
Sunday 6 May, doors open 7.30pm
international keyboards/sax/drums trio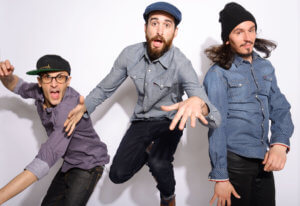 The trio of Italian saxophonist Emiliano Vernizzi and pianist Alessandro Sgobbio, with New York drummer Nick Wight, were pretty well unknown in the UK when Jazz North East booked them to play at the 2016 Gateshead International Jazz Festival, but their concourse session was an absolute triumph.
Emiliano and Alessandro were already working as a duo when they met Nick in late 2012, when they were all gigging in Paris. There was an instant musical chemistry, sparking an organic and self-generated ensemble language, with the musician keeping up an engaging dialog; not necessarily in complete agreement but like three story-tellers with unique perspectives on the same narrative. Endorsements rapidly came from such luminaries as trumpeter Enrico Rava, and saxophonist Dave Liebman, who commended their "wonderful diverse music played flawlessly".
Their new album Legacy sees them moving on, embracing a musical palette inspired by alternative and popular culture of recent decades, with dynamic grooves & rhythmic focus. Electric keyboards and new effects enhance clever compositional devices without distorting the acoustic sensibilities that made them such a great unit in the first place. It's great to have this opportunity to share in their musical journey.
This gig is a co-promotion with Jazz North East
Tickets £8 (or £6 concessions) are available on the door or from Reflex CDs (0191 260 3246) or online from seetickets.com