Paul Booth masterclass
We are pleased to co-promote this online masterclass with Paul Booth organised by Strictly Smokin' Big Band.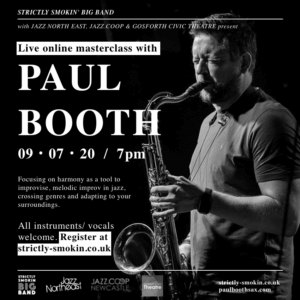 In this session lasting 90 minutes, Paul will focus on harmony which gives us the tools to improvise. He will also cover melodic improvisation in a variety of musical contexts with a focus on jazz but also looking at improvisation across genres. Paul will be answering your questions also.
"From his early acclaim as a prize-winning saxophonist, Paul Booth has continually refined and expanded his talents as a solo artist, composer, arranger and bandleader, whilst establishing an elite reputation as a first-call sideman for major contemporary music artists. In 1993 Paul won the 'Best Modern Jazz Player' category at the televised Young Jazz Player of the Year. Paul's work has seen him perform with Steely Dan, Carlos Santana, Chaka Khan, Jamiroquai, Gregory Porter, Ingrid Jensen, Brand New Heavies, The BBC Big Band and of course, Incognito"
Regardless of age or experience, all instrumentalists and vocalists are welcome to attend the session.
The masterclass will be held on zoom.us and you will require a free account with them. Upon registering, you will receive a receipt for your payment and a follow up e-mail with specific details of how to access the masterclass.
To register head to www.strictly-smokin.co.uk.
Full – £10
Student – £5
This is a co-promotion with Strictly Smokin' Big Band, Jazz North East, Jazz.Coop and Gosforth Civic Theatre.