NUJO Small Band
Sunday 10 March, 7.30pm
Jam and dance with skinny version of university big band
We are delighted to welcome Newcastle University Jazz Orchestra (well, perhaps not all of them) to the Globe for an informal gig/jam/dance. Here is how they describe it.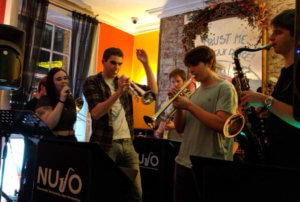 NUJO Presents: Syncopate … Participate!
Caution! The following event may result in sudden outbursts of singing, uncontrollable desire to dance and euphoria that may last for days. Proceed at your own enjoyment…
For the first time ever, The Newcastle University Jazz Orchestra invites you to get your groove on at The Globe!
Bring your instruments, your dancing shoes and the good vibes! For an evening of improvised music and dance.
NUJO delivers, for your entertainment, an eclectic selection of pop classics and jazz standards. Ranging from a moody Misty to a funkadelic Watermelon Man; from a slow bop So What to a quick tune Jordu. Yes, there really is a song for everyone!
Not into standards? Worry not, as the NUJO Small Band brings a bucket load of classic pop to its second set, including everybody's favourites: Valerie, Superstition and Uptown Funk.
If that wasn't enough to get you excited, did we mention it's free entry?
Admission: Free

YouTube: https://www.youtube.com/channel/UCzggaNuyG5j602pD9zLzTWg