New season of courses and workshops
Summer may not be over yet but already people are enrolling for our new programme of courses and workshops to see them through the autumn.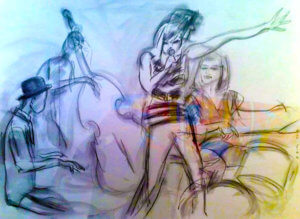 Once again we will be running 4-hour Play Jazz! workshops once a month at Sage Gateshead. The first of the new season is on Saturday 2 September and will focus on practice and preparation. The following month, on Saturday 7 October, visiting saxophonist, composer and teacher Julian Costello will lead the workshop before playing a gig with his international quartet at The Globe in the evening.
Evening courses at The Globe start again on Monday 18 September with our songwriting course, Songsmiths and Minstrels led by inspirational community musician Bethany Elen (please note that this covers all song writing – it is not a jazz course).
Our very popular multi-instrumental jazz group course, Play More Jazz led by Steve Glendinning, starts on Tuesday 19 September. The first session of James Birkett's highly praised Advanced Jazz Guitar course is on Tuesday 26 September.
Looking ahead, there is a treat for vocalists when Anita Wardell returns to the Globe to run another weekend vocal course on 3-5 November.
Check out details of all our workshops, courses and jam sessions at http://jazz.coop/learning/