Mo Scott Blues Band
Thursday 21 March 2019, 7.30pm
Tyneside's First Lady of The Blues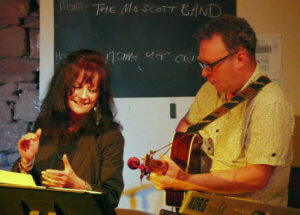 Many of Mo's fans were disappointed when she had to cancel her gig in January due to illness. Now she is back in good health and fine voice.
Mo Scott (vocals); Dave Dryden (guitar); Neil Harland (bass guitar); Paul Smith (drums).
"Jazz gig? Rock gig? Blues gig? Yes to all three! The genres drew from each other and merged.
Mo shouts the blues like a woman 3 times her size (to be a blues mama you've gotta tip the scales at, at least, 20 stone) but she can also sing a ballad like the slender chick that she is and when it comes to rockin', Mo's your first call for a Saturday Night Fish Fry. It's not just the voice – and what a voice! – it's also the stage presence, the terpsichorean-like movements of her hands, and the ability to work a room." Lance Liddle, Bebop Spoken Here
Admission £6 on the door (£3 students)
Can't come but you'd like to support us? Click here.