McCormack and Nuti play for Jazz.Coop and The Globe
Sunday 3 May, 8pm ('doors open' 7.45pm)
online performance on Facebook and YouTube
We can't run gigs at The Globe currently but this WON'T STOP US bringing you the very best new music! We are pleased to announce the second of our exclusive livestream concerts.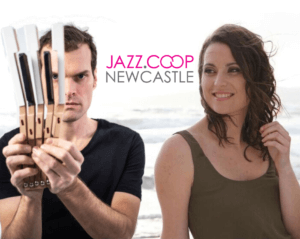 This Sunday 3 May at 8pm we're delighted to be able to bring you an exclusive and intimate concert by vocalist Noemi Nuti and pianist Andrew McCormack, which we will stream live to you through Facebook and YouTube.
The live #stayathome performance will feature Nuti's most recent album 'Venus Eye', released in March 2020. Venus Eye is a celebration of the modern-day female perspective through the medium of the traditional acoustic jazz quartet, the art of song form and some Latin touches.
McCormack and Nuti bring this album to life in a more intimate duo setting for the private online performance for Jazz.Coop. Its originality, melodic approach, layered harmonies and inclusion of Paraguayan harp take the audience on a journey of discovery through the ever-present excitement of jazz improvisation.
If you're a fan of Joni Mitchell, Esperanza Spalding, Brad Melhdau or Keith Jarrett, this is the gig for you!
So that Noemi and Andrew can get paid, we'd like to ask you to pay a small 'entrance fee', which we recommend should be £5. If you are able to pay a bit more this will be really welcome at this time when gig income for musicians has completely stopped and is unlikely to return in the very near future.
TO ATTEND THE GIG PLEASE DO THE FOLLOWING:
1. Make a donation via the following link. https://bit.ly/35jOvL5 Donate what you can afford, £5 is the suggested minimum.
2. When we have received notification of your donation we will send you an email with instructions on how to view the livestream on both Facebook and YouTube. Please note that it may take several hours for us to respond.
3. Please do not leave it to the last minute to access Facebook or YouTube. 'Doors open' at 7,45pm on Sunday 3 May to give you time to check your set up and get comfortable.
ANDREW McCORMACK – British pianist/composer Andrew McCormack has built a diverse international career with many appearances at major festivals and concert halls all over the world. He is perhaps best known internationally as a long-standing member of the Kyle Eastwood Band but also has numerous projects under his own name including a trio, a duo with saxophonist Jason Yarde and the pianist's progressive jazz project, Graviton. He has also received commissions for classical orchestral and chamber concerts.
NOEMI NUTI – Born in New York City and of Italian decent, Noemi Nuti is a well-established jazz vocalist based in London. She has received wide critical acclaim touring the UK, headlining festivals and supporting Brazilian legend Marcos Valle at Islington Assembly Hall. She has also performed nationally and internationally as lead vocalist in Andrew McCormack's Graviton.