Mark Williams & Joel Byrne-McCullough
Thursday 17 January 2019, 7.30pm
Two superb jazz guitarists – together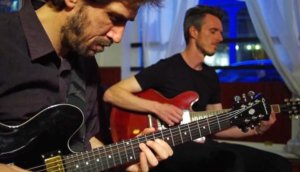 Mark Williams and Joel Byrne-McCullough are two guitarists with extraordinary talent and empathy. Both were brought up in Northern Ireland, both studied music in Newcastle and then they went separate ways. Mark has become one or the most in demand guitarists in the North East, and Joel the same in the North West. Last year Joel returned to the North East since when the pair have performed a few duo gigs that have astonished audiences with their virtuosity.
Seeing them in the intimate setting of the jazz bar at the Globe will be a treat.
Admission £6 on the door (£3 students)
Can't come but you'd like to support us? Click here.