Liane Carroll plays for Jazz.Coop and The Globe
Sunday 14 June, 8pm ('doors open' 7.45pm)
online performance on Facebook and YouTube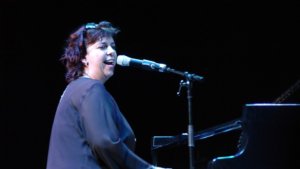 We can't run gigs at The Globe currently but this WON'T STOP US bringing you the very best new music! We are pleased to announce the fifth of our exclusive livestream concerts.
On Sunday 14 June at 8pm we're delighted to be able to bring you an exclusive and intimate concert by multi-award-winning jazz vocalist and pianist Liane Carroll, which we will stream live to you through Facebook and YouTube. You can watch the gig again on either platform at any time.
So that Liane can get paid, we ask you to pay a small 'entrance fee', which we recommend should be £5 per person. If you are able to pay a bit more this will be really welcome at this time when gig income for musicians has completely stopped and is unlikely to return in the very near future.
TO ATTEND THE GIG PLEASE DO THE FOLLOWING:
1. Make a donation via the following link.
https://bit.ly/2MchkR0
Donate what you can afford, £5 per person is the suggested minimum. Please do so as early as possible, as a rush of requests just before the gig may result in some people missing the start.
2. When we have received notification of your donation we will send you an email with instructions on how to view the livestream on both Facebook and YouTube. Please note that it may take several hours for us to respond.
3. We recommend that you access and save the Facebook and/or YouTube links as soon as you receive our instructions. On Sunday 14 June 'doors open' at 7.45pm to give you time to check your set up, get comfortable and chat with other members of the audience.
ABOUT LIANE CARROLL
Liane Carroll has been a pillar of the British jazz and soul scene for over thirty-five years.
Born in London and raised in Hastings; from the beginning of her musical career at the age of fifteen, she has dedicated her life to creating a deep and abiding connection with audiences all over the world through her exceptional talent, versatility and ability to truly interpret a song.
Along the way she has collaborated with such diverse artists as Paul McCartney, Gerry Rafferty, Long John Baldry, Ian Shaw, Claire Martin OBE and drum and bass outfit London Elektricity with whom she headlined in 2016 at Finsbury Parks Hospital in the Park festival. She appeared with them again at Glastonbury Festival 2017.
Equally at home in intimate jazz venues and vast performance spaces, in the summer of 2016 Liane took part in the BBC Late Night Proms performing at The Royal Albert Hall with the National Youth Jazz Orchestra Of Scotland.
Awards
Winner: Best Vocalist and Best of Jazz – BBC Jazz Awards 2005
Winner: Musician Of The Year – British Parliamentary Jazz Awards 2008
Winner: Best Jazz Album of the Year – Parliamentary Jazz Awards 2012
Nominated: Best UK Vocalist of 2012 – Jazz FM Awards 2013
Winner: Best British Vocalist – British Jazz Awards 2013
Winner: Best new CD – British Jazz Awards 2015 (Seaside)
Nominated: Jazz Album Of The Year – Parliamentary Jazz Awards 2016 (Seaside)
Nominated: Vocalist Of The Year 2016 – Jazz FM Awards 2016
Winner: Best British Jazz Vocalist – British Jazz Awards 2016
BASCA Gold Badge Award for Services to Music – 2016
"She seems in some magical way to be made out of music"
The Observer
"Deeply soulful, wonderfully honest"
The Times
"Liane Carroll doesn't just sing jazz. She is jazz."
MOJO Magazine