Josh Kemp Quartet
Review and photo by Lance Liddle from Bebop Spoken Here, 26 November 2016
Josh Kemp (tenor); Martin Shaw (trumpet); Matt Ratcliffe (Nord C20); Dave Walsh (drums).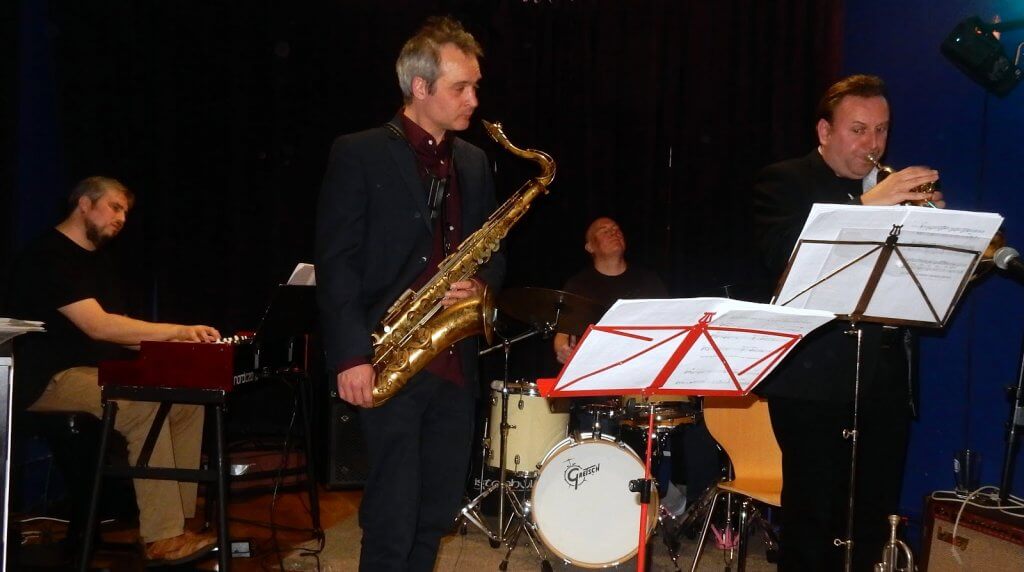 This wasn't quite the anticipated line-up. We knew in advance that Martin Shaw was stepping in for Steve Fishwick, what we didn't know was that neither Tim Giles nor Ross Stanley were with us either. Those who'd been impressed by Stanley's recent appearances in the area with Nigel Price must have been particularly disappointed. However, in fairness to Ratcliffe he proved to be a more than able dep and, by the end of the evening, it was a case of "Ross who?" Likewise with Dave Walsh.
Understandably, some of the numbers weren't as tight as they could have been, jazz has always maintained a sense of looseness and, indeed, frequently none the worse for that. Such was the case here and the well-attended gig was given the stamp of approval by the crowd after the opening number.
As it said on the tin, this was classic Blue Note with a contemporary feel. Kemp is a no-nonsense sax man what we used to call a tough tenor a sort of updated version of Ike Quebec, Arnett Cobb or Lockjaw Davis. Lots of fire in his belly but also a degree of tenderness when playing a ballad. Having heard Shaw several times over the years we had no worries. He delivers the goods without fail.
Walsh, a teacher at Leeds College of Music, laid down the funk whilst Ratcliffe, from Derby, although not as flamboyant a player as Ross Stanley, took care of the business in his own way.
As the night progressed the music gelled more and more. The mix of Kemp originals and the occasional standard made for a varied programme. Stirred Not Shaken was a cocktail comprising Sweet Georgia Brown, Straight no Chaser and a dash of original Kemp. It worked a treat. My One and Only Love saw both horns in a romantic mode whilst the closer, Home Cooking began with Shaw and Kemp exchanging 8's and finished with collective improvisation between the pair.
Other originals included a piece dedicated to The Angel of the North, a funky Turn on the Dark and Effervescence. This latter piece, Kemp pointed out, was good value for money as you got 20% extra each bar – it was in 5/4 time! Perhaps this was a hangover from Black Friday.
Much of the music was from Kemp's current CD – Rare Groove.
Well done Jazz Coop for bringing such a band to the Globe even though it wasn't quite the expected personnel.