Jordan Alfonso & Alan Law Trio
Sunday 6 September, 8pm
Live music from The Globe! … But you can only watch it on a screen, for now.
2020 is the centenary of the birth of trailblazing jazz titan Charlie Parker, and Jazz.Coop is celebrating in style with a quartet dedicated to capturing the driving excitement of the man and his music.
On Sunday 6 September Jordan Alfonso joins the Alan Law Trio for a special performance at The Globe. The gig will be streamed live and you can watch it again at any time. The Globe will remain closed to the public so please do not try to attend the gig in person. We are planning to allow audiences in The Globe as soon as we can accommodate them safely and within government guidelines.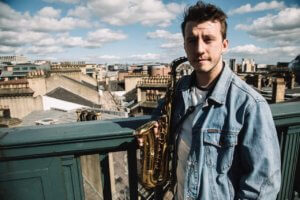 With a solid grounding in jazz, saxophonist Jordan Alfonso has made a name for himself in multiple genres of music. Developing a solid reputation in the North East, his playing has led him to playing both as a solo artist and with bands around the UK as well as across Europe and the USA. Despite being a sought-after session musician and recording artist, he will always relish an opportunity to get back to his jazz roots, with Charlie Parker's bebop style a fundamental influence.
Ably backed by stalwarts of the local jazz scene – Alan Law piano, Paul Grainger bass and Rob Walker drums – it should be a great night with legendary Parker quotes a plenty.
"If you don't live it, it won't come out of your horn."
So that the musicians can get paid, we ask you to make a small 'entrance donation', which we recommend should be £5 per person. If you are able to give a bit more this will be really welcome at this time when gig income for musicians has almost completely stopped.
TO VIEW THE LIVESTREAM GIG PLEASE DO THE FOLLOWING:
1. Make a donation via the following link
https://bit.ly/2DMHb1d
Donate what you can afford, £5 per person is the suggested minimum. Please do so as early as possible, as a rush of requests just before the gig may result in some people missing the start.
2. When we have received notification of your donation we will send you an email with instructions on how to view the livestream. Please note that this is not an automated process. Our volunteers may not respond immediately. Also remember that our message will go to the email account associated with your payment which may not use be the one you usually use.
3. We recommend that you access and save the link as soon as you receive our instructions. On Sunday 6 September 'doors open' at 7.45pm to give you time to check your set up, get comfortable and chat with other members of the audience.