House of the Black Gardenia
Review and photo by Lance Liddle from Bebop Spoken Here, 27 November 2016
Bobbi Charleston (vocal/washboard); David Gray (trombone); Michael Lamb (trumpet); Keith Robinson (tenor/clarinet/flute); Ben Imrye (piano/vocal); Michael Littlefield (guitar); Neil Hopper (bass/sousaphone); Kit Haigh (drums).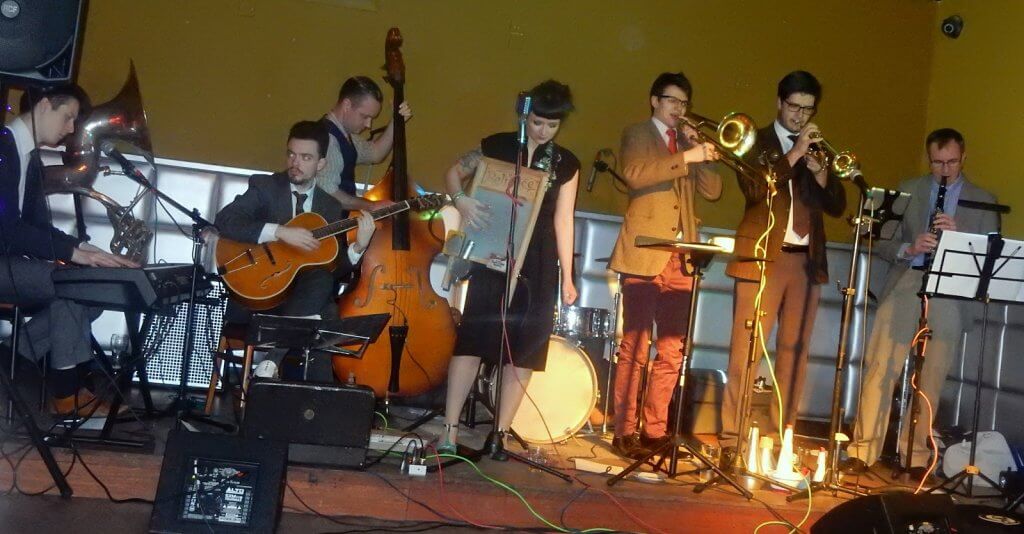 Upstairs, they were tangoing, downstairs, they were lindy hopping. Upstairs and downstairs they were having fun.
Which is what it's all about.
The inhabitants of the Black Gardenia House provided a raucous, raunchy, revival of good old-fashioned entertainment. The audience loved it as they danced away their shoes.
These guys (and gal) draw their repertoire from the early, exciting days of jazz and blues and dance music. The music that provided the bedrock for the music of today and it's to their credit that young musicians such as these are prepared to embrace the past as well as looking to the future. It augers well for the music we love.
Bobbi Charleston sang the blues, risque vaudeville numbers such as If You Don't Give me What I Want; I Ain't Gonna Give Nobody None of my Jelly Roll and Baby Don't Tear my Clothes as well as a few reefer songs such as Viper Man and Weed Smoker's Dream a.k.a. Why Don't You do Right? A singer, well-versed in the idiom, and a washboardist too – no scrubber she!
Ben Imrye, a young man who plays mighty fine piano, also sang. He told us, I'm Satisfied With my Girl. A vocal call and response number with the band repudiating his claims in unison. His great version of the old Johnny Long hit Skirts brought the show to a close. Where has this guy been hiding?
It was a night of discovery. Effective chording from Littlefield on acoustic – with the occasional solo slotted in. Solid sousaphone and double bass from Hopper and atmospheric drumnastics from, wait for it, Kit Haigh.
There was blistering trombone from Gray. David took his chances by the scruff of the neck and justified his nom-de-plume of 'Showtime'. We're accustomed to hearing Lamb blowing hard bop trumpet lines but tonight he was in swing era groove – move over Bunny Berigan.
Robinson on clarinet was another surprise. Normally he only dusts it off for section passages with Strictly Smokin' but tonight it was his main instrument and Artie Shaw didn't turn in his grave.
A most enjoyable evening and a good weekend for the Jazz Coop.
Remember the name – The House of the Black Gardenia.