Heller Glendinning Duo: Billie meets Kurt
Thursday 20 June, doors open 7.30pm
'Speak low when you speak love' – a candid conversation about life featuring songs by Billie Holliday and Kurt Weill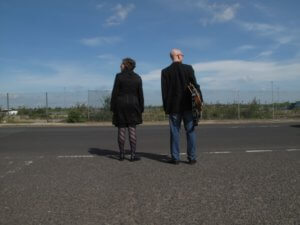 The Newcastle-based singer Gabriele Heller and guitarist Steve Glendinning have been working together since 2011. They collaborated in various formations and performed together at the Jazz North East Women Make Music Festival, the International Women's day, the Hexham Book Club or the Tynemouth Music Festival just to name a few. In 2017 they were invited to perform for the BBC Radio 3 in Tune Programme, broadcasted live from the Free Thinking Festival at the Sage Gateshead.
Gabriele and Steve combine a compelling dialogue between voice and strings with a dynamic and energetic approach of their diverse repertoire. Performing as a duo they both enjoy the ability to explore the potentials of their instruments and the direct exchange of ideas and improvisations.
'Glendinning's jazz guitar credentials acted as an effective counterpoint to Heller's committed agit-prop approach, exposing the political undertones in tunes written and/or performed by Billie Holiday, Kurt Weill and others.' Russell, bebop spoken here, 2015.
'Thankfully Gabi is an exception to the dismal roll call, with a real understanding of Billie's approach and the ability to give the material an appropriate reading.' Paul Bream, Jazz Alert 2017
'…this presentation may well qualify as my Gig of the Year, yes, it was just so good.' Ann Alex, bebop spoken here, 2017.
Admission £6 on the door (£3 for students)
Can't come but you'd like to support us? Click here.