Going up!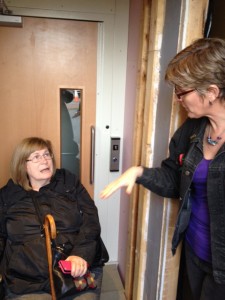 The lift is installed, at last! Today (31 October 2014) the Globe became one of the very few small music venues in Tyneside to be fully accessible on both floors.
The photo shows Joan Parker (left) and Minnie Fraser, the treasurer and co-chair of Jazz.Coop respectively, inspecting the new installation.
Minnie said: "This has been a very complex project and we've encountered all sorts of unexpected problems but we got there in the end."
The lift became operational just in time for Jazz.Coop's major gig on 1 November, Clark Tracey Quintet.