Gerry Richardson Quartet
Sunday 24 November, doors open 7.30pm
Legendary organist with his jazz/soul band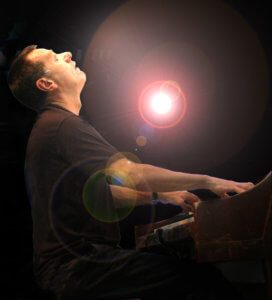 The Gerry Richardson Quartet is a dynamic Hammond organ based band exploring the jazz organ genre to the max!
Soul, Gospel, Funk, Swing and Samba are all part of the mix.
Add to that some kicking original tunes, many written as tributes to the legendary jazz and soul musicians who have inspired Gerry throughout his career and you get an unbeatable format for a great gig.
The quartet are:
Gerry Richardson – organ and vocals
Garry Linsley – alto saxophone
Rod Sinclair – guitar
Graeme Hare – drums
The members of the quartet have a collective CV that includes work with Guy Barker, Mark Knopfler, John Miles, Billy Ocean, Alan Price, Annie Ross, Larry Carlton, Carol Grimes, Ian Shaw, Billy Joel, Sting, etc.
Admission £6 on the door (£3 for students)
Can't come but you'd like to support us? Click here.