First visit by Clark Tracey Quintet to North East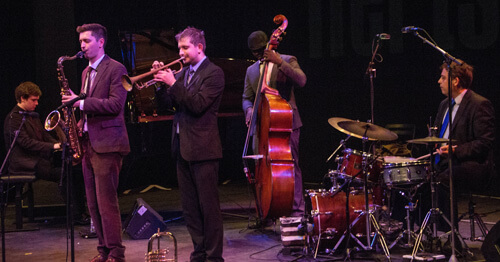 Clark Tracey's latest band – the very youthful Quintet formed last year – is playing in the North East for the first time on 1 November at the Globe. This gig is expected to be one of the highlights of our opening season and we advise people to buy tickets in advance (£15 + £1.75 fee) from www.skiddle.com/e/12254835/ Tickets will be available on the door if it's not sold out.
Clark Tracey has long been regarded as the UK's most accomplished straight-ahead jazz drummer. He's also a composer, arranger, educator and talent-spotter. All of these skills come together in another of his passions: band leading. Clark has been fronting his own units since the early 1980s. His new quintet brings together some of the brightest young stars on the British jazz circuit.
Chris Maddock: alto and tenor sax
Henry Armburg-Jennings: trumpet and flugel horn
Harry Bolt: piano
Daniel Casimir: bass
Clark Tracey: drums
Clark Tracey is also holding a jazz drums masterclass at 3.30pm follow this link for more details