Dulcie May Quintet
Thursday 18 July, doors open 7.30pm
Contemporary jazz singer/songwriter
Kent-based jazz singer Dulcie May and her long-time guitarist Stephen Bridgland join Tyneside regulars Steve Summers (saxes), Paul Grainger (bass) and Rob Walker (drums) for a special quintet gig.
You can expect latin rhythms, and soulful blues with lyrics still current years on.
Dulcie sings like a story teller with improvisation and conversation.
Doors open 7.30pm, Music starts 8pm
Admission £6 on the door (£3 students)
Can't come but you'd like to support us? Click here.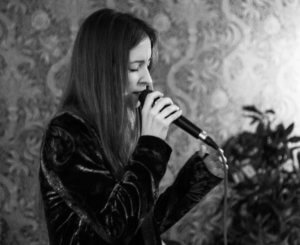 Biography
Dulcie May Moreno was born in Newcastle and moved to Kent at the age of 6. Her creative journey started with poetry, which she started writing from the age of 12.
With the diverse early musical influences of Nina Simone, Aretha Franklin, Jimi Hendrix, and Led Zeppelin, she began to find her voice by singing along to recordings. Soon her poems began to acquire melodies and a love of songwriting was born.
At the age of 20 Dulcie learnt to play the guitar and within two years was busking by herself on the streets of Folkestone, Canterbury, and Ashford, where she would play a mixture of original songs and her own arrangements of classic soul, jazz, pop, and rock songs. She busked regularly for 4 years and in that time won over a host of admiring fans, and made connections with many of the musicians with whom she continues to work with today.
As well as busking Dulcie was leading The Mystery Cats, her first band, and beginning to gig regularly in pubs and clubs in the Kent and London area, eventually leading to a sold out gig at Ronnie Scott's bar playing a set of all original music.
At the end of 2014 Dulcie began to host a jazz jam in Canterbury and it was here where she began to explore the history of jazz song more deeply. Chet Baker's breathy, intimate vocal style resonated strongly with Dulcie's own desire to sing every word in the song in a way that tells the story of the song, and Sheila Jordan's use of focused and minimal arrangements (particularly recordings featuring only voice and bass) offered a template not only for freedom, but for a style that placed emphasis on the meaning of the song rather than flashy vocal pyrotechnics.
In the past 5 years Dulcie has not only played hundreds of gigs all over the country but has curated a series of highly successful concerts featuring other artists and their bands.
In the summer of 2018 she recorded her debut live quintet album and plans to record another album very soon.
Plans for 2019 also include a small tour of Northern England and Scotland including gigs at the Edinburgh Jazz and Blues festival.