Dowally
Wednesday 11 September, doors open 7.30pm
Folk/Jazz acoustic trio on tour
It's not exactly jazz but, as Louis Armstrong famously said "all music is folk music".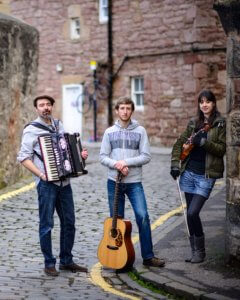 Described as "Something very special…truly great music-making" by BBC Radio Scotland, Dowally is the meeting point of three musicians from very different worlds. Rachel Walker plays fiddle in the Scottish folk tradition, Phil Alexander (Moishe's Bagel, Salsa Celtica) is a performer and scholar of Klezmer music, and Daniel Abrahams is a guitarist traversing the UK jazz scene. Dowally create folk music from some imaginary land, deftly combining balkan rhythms, melodic improvisation and pure joyfulness. Having garnered rave reviews all across the UK, from folk festivals to pub sessions, they released their second album of original material 'Somewhere' last year – described by Songlines as "Utterly enchanting". They were thrilled to win a Danny Kyle Award at Celtic Connections 2019, and will be on tour in the UK and further afield this year.
Dowally make unclassifiable, thrillingly energetic music, fusing their love of traditional Scottish tunes with jazz harmony, Balkan rhythms and deep Americana raucousness.
http://dowally.com/music
http://dowally.com/video
Tickets £10 online or on the door.
THERE ARE A LIMITED NUMBER OF ADVANCE SAVER TICKETS £8 + booking fee
Can't come but you'd like to support us? Click here.