Dave's Big Birthday Bash
Friday 11 October,  7.30pm till late
'the mother of all jam sessions'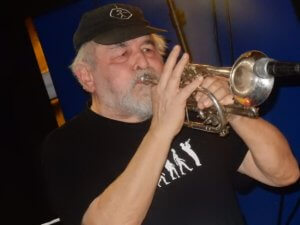 Connecticut's finest export to Newcastle, Dave Weisser, turns 80 on October 11th.
He's been a mainstay of the North East jazz scene since he moved here in 1972. Everyone knows his brilliance as a singer and superb improviser on trumpet and cornet, as well as being mein host of the region's longest running jazz jam/workshop, Take it to the Bridge.
Not only that, he'll also regale you with tales of how he drove through a snowstorm to see Coltrane in New York, and how Doris Day once swore at him!
Come and help him celebrate his big birthday at the mother of all jam sessions.
Admission free. All welcome.