Analyse to Improvise
A practical 10-week course for instrumentalists to analyse jazz standards and improvise on them.
This course is aimed at those who wish to develop their music analysis skills and improvisation techniques. Each week the tutor will take a jazz standard and a section of a solo transcription, discuss and analyse its structure and harmonic progression, looking at ways in which you can turn this into your own playing.
Mondays: 19:30 – 21:00 at The Globe
Spring Term starts Monday 11 January
Half Term break: Monday 15 February
Finishes Monday 22 March
IMPORTANT: This course is planned to take place at The Globe. This kind of learning activity is permitted in Newcastle under the current coronavirus regulations. To reduce the risk of infection the number of participants will be strictly limited so we advise you to book early. If regulations change and the course is not allowed to proceed you will receive a refund.
About the tutor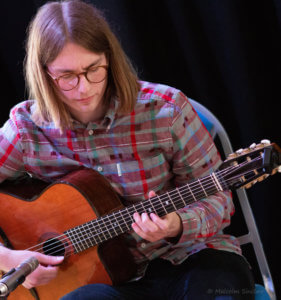 Bradley Johnston has become firmly established on the North East jazz scene in the UK. He began his academic and practical journey at the age of fourteen when he gained a full-scholarship to study on Sage Gateshead's Young Musician Programme (Y.M.P), 'Centre for Advanced Training' (C.A.T), under the direct supervision of Dr. James Birkett – studying the art of jazz guitar and related advanced jazz theory.
Bradley graduated from the B.Mus. (Hons): Jazz, Popular and Commercial music degree programme in 2016 at Sage Gateshead with a First Class Honours classification, followed by a PGCE teaching qualification at Newcastle College in 2017. He is currently studying for a M.Mus. (Masters of Music) at Newcastle University.
In his role as featured soloist in Jambone (the Regional Youth Jazz Ensemble) he has also performed alongside numerous jazz artists from the UK, USA, Cuba and Brazil. Bradley has performed at some major jazz festivals in the UK, including: Gateshead International Jazz Festival; Manchester Jazz Festival; Isle of Skye Swing Jazz Festival; Callander Jazz Festival. He has also performed at the Parliamentary Jazz Awards, Portcullis House, London.
For several years he has been presenting duo concerts with James, and their first CD (entitled Together) presents a variety of jazz repertoire for two guitars. Bradley also works regularly with the duo Hand To Mouth, presenting repertoire sung and performed by Ella Fitzgerald and Joe Pass. He works regularly as a sideman and session musician throughout the region.
Bradley teaches at the prestigious Music Education Centre, Sage Gateshead (UK).
About learning and participation at The Globe
We have implemented policies and procedures to reduce the risk of spreading infection. We want to ensure that participants feel welcome, comfortable and safe.
You will need to bring all the equipment you need including instruments, amplifiers (if required) and music stands.
Prices
The course fee is £135 for a 10-session term. You may also pay £15 per session (minimum payment £30).
To book
To enrol please complete the form below.
To confirm your booking you need to pay for the course in advance.
You can pay in one of the following ways:
1 By bank transfer (online banking) directly into our bank account: Account name: Pink Lane Jazz Co-op Ltd, Account number: 65650408, Sort code: 08 92 99
2 By making an online payment by credit/debit card or PayPal: use the button at the bottom of this web page
Any Questions?
Please email learning@jazz.coop
ENROLMENT FORM

Error: Contact form not found.
PAYING BY CARD/PAYPAL
If you are paying by card/PayPal please click SEND above before you click BUY NOW.