Alan Glen Trio
Thursday 4 July, doors open 7.30pm
Veteran jazz piano maestro with very accomplished trio
Alan Glen, piano, John Pope, double bass. Sid White, drums.
This is the best classic jazz piano trio in Northern England, maybe in the UK.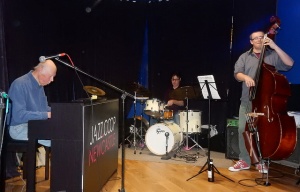 Read the praise of two highly experienced jazz critics
"If it's the mark of a great jazz musician that s/he doesn't sound like anybody but her/himself, then Alan Glen certainly makes the grade. That's not to say that he hasn't listened closely to all of the finest exponents of bop-derived jazz piano since the 1940s – he clearly has, and has absorbed their lessons – absorbed them so thoroughly that what you hear is pure Alan Glen. John Pope and Paul Wight, whose combined ages may well be less than Alan's, have been his regular bass & drum partners for several years now, following every twist and turn of his playing, and giving the music a few nudges of their own. A classic jazz piano trio of unfailingly high quality." Paul Bream, Jazz Alert
"The Glen Trio can warm up any room! The north-east is blessed with many fine players and Alan Glen is the doyen of them all, Despite his four score years he can hold his own. There may be a barely discernable decrease in dexterity, although I didn't notice it, but, if there is, he makes up for it with the ever-evolving flow of ideas he transmits to the keyboard via head, heart, soul and fingers." Lance Liddle, Bebop Spoken Here
Admission £6 on the door (£3 for students)
Can't come but you'd like to support us? Click here.