Alan Glen Trio
Thursday 13 July, 7.30pm
Veteran jazz piano maestro with very accomplished trio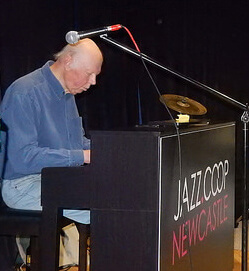 Alan Glen, piano, John Pope, double bass. Sid White, drums.
Review of their appearance at the Globe in January 2017 by Lance Liddle of Bebop Spoken Here
The Glen Trio can warm up any room!
The north-east is blessed with many fine players and Alan Glen is the doyen of them all, Despite his four score years he can hold his own. There may be a barely discernable decrease in dexterity, although I didn't notice it, but, if there is, he makes up for it with the ever-evolving flow of ideas he transmits to the keyboard via head, heart, soul and fingers.
He was on form.
This was the A-Team.
John Pope, on bass, is Premier League – maybe even Champion's League – his solos, always full of humour without losing the plot. He swings and does it in a sympathetic and melodic way.
Sid on drums drives things along nicely and his kickass solo on Tune Up was full of dynamics, rhythmic permutations, and some explosions that would have caused the building to be evacuated had the bomb squad been passing by!
This is a trio that has developed over the years, with changing personnel, into a band that will be, ranked alongside the great Newcastle bands of yore.
Admission £5 on the door