Charkie Parlour
Thursday 1 November, 7.30pm
New jazz quartet featuring North East's finest improvisers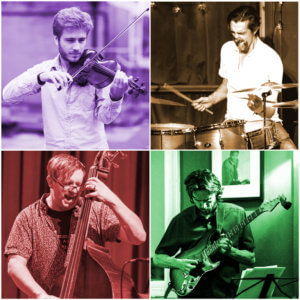 Northeast-based quartet Charkie Parlour is led by jazz violinist and composer John Garner.
Formed in 2017 as a vessel for exploring new music, the ensemble features legends of the Northern scene Mark Williams on guitar, John Pope on double bass, and Russ Morgan on drums.
The unique sound of the group, although rooted in the jazz idiom, is influenced by styles from across the globe, including South-Indian Carnatic, South African, classical, and British folk music. Whilst pushing on occasion into the stranger realms of free jazz and aleatoric composition, the quartet always seeks to uphold melody and spontaneity as the unifying tenets of creation. From quirky blues numbers to merciless rock-outs, the familiar can be heard alongside the unfamiliar, appropriate for both the casual and the experienced listener.
Admission £6 on the door (£3 students)
Can't come but you'd like to support us? Click here.